YVONNE TUBELL SHAHOUD
South Florida muralist and portrait artist.
HAND PAINTED PORTRAITS IN OIL OR PASTEL UPON COMMISSION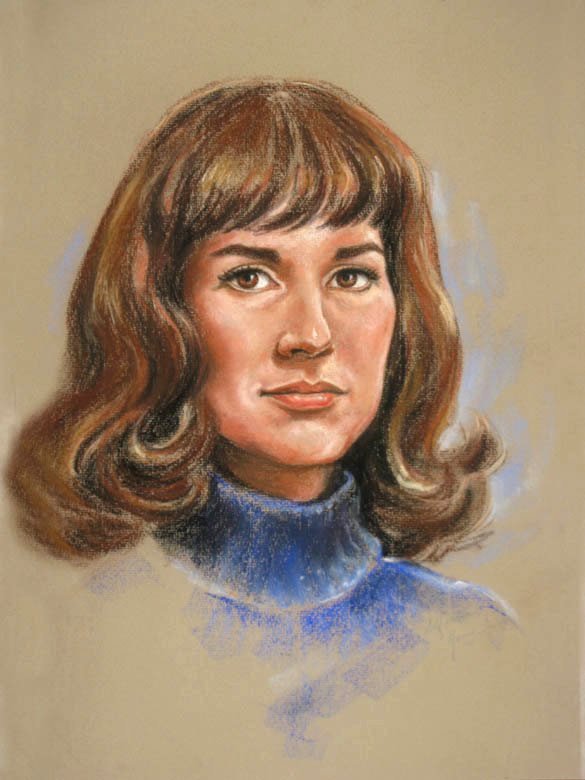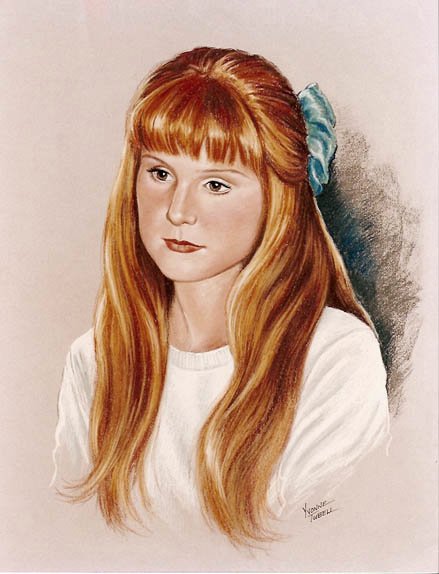 Above left: Self Portrait painted in 1972 - Pastel, size 14"x18" Above right: Pastel, size 16"x20"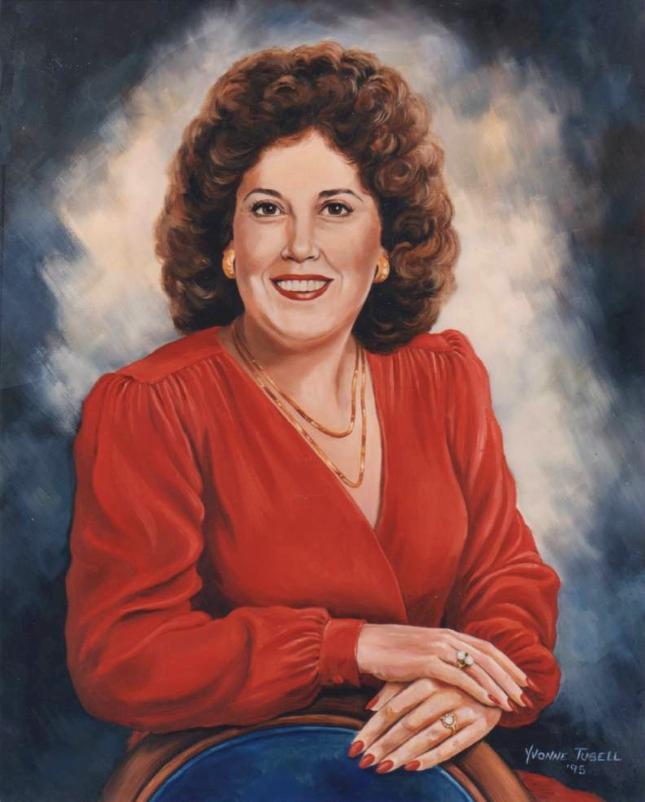 Although I have been painting murals for the past 24 years, my first love was painting portraits. I began as a child begging my mother to teach me how to draw faces. She was very talented at pencil sketching, and began drawing beautiful portraits of the movie stars that were popular when she was a teen. One of her drawings, a framed portrait of the child star, Shirley Temple inspired me to draw too. I began at the age of about 5, following Mom's instructions on how to make eyes look like eyes and lips look like lips, curly hair to look shiny and real, and so on.
I owe my success to my mother's patience and love, as she taught me. She made sure that as I progressed, I was given top quality artist's supplies to work with, as well as "how to" books on drawing and painting. With her encouragement, and with many years of practice, I eventually found myself working professionally in the field of advertising, as a commercial illustrator for many major department stores. After 20 years in that field, I decided to start my own business, Mural, Mural On The Wall, Inc., as a muralist and painter of portraits. I must say this has brought me a great deal of pleasure. I have enjoyed working for many wonderful people, decorating their homes, businesses, or schools, or painting portraits of their family members. Hopefully, I will have the opportunity to paint something beautiful for you!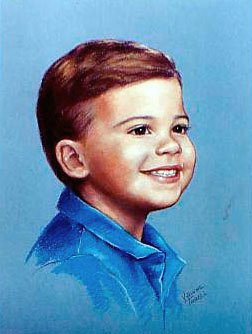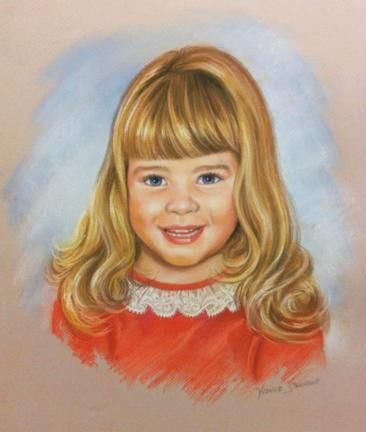 Above Left: Matthew - Pastel, size 14"x18" Above Right: Megan - Pastel, size 14"x18"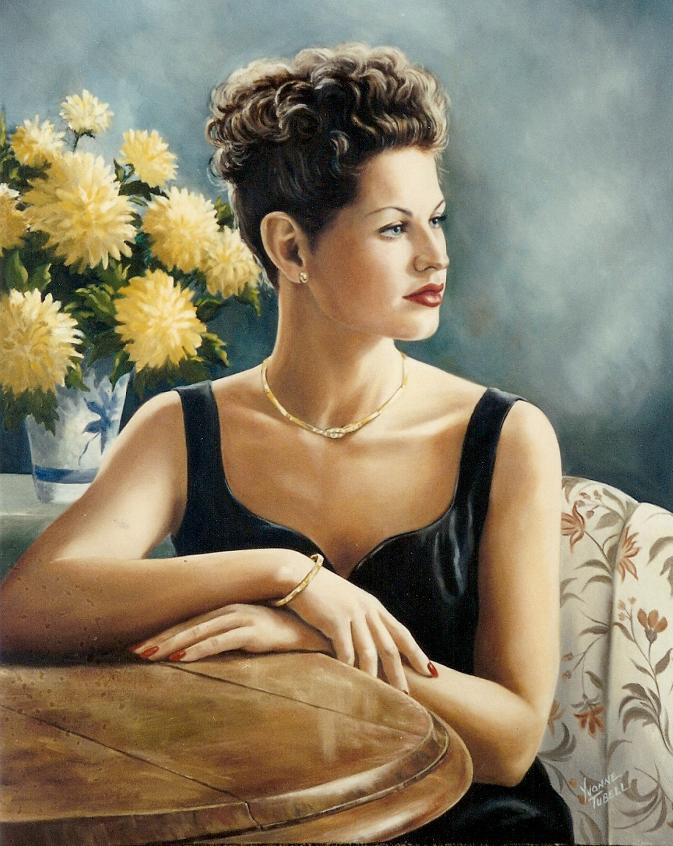 Above: Oil on Canvas, size 24" x 30" Below: Both portraits are painted in oil on canvas, sizes 18"x20"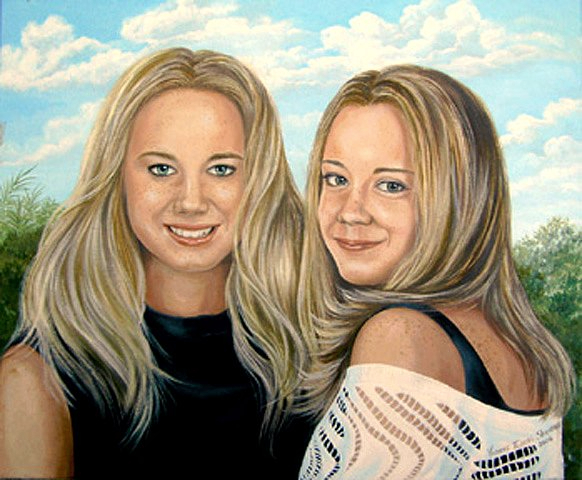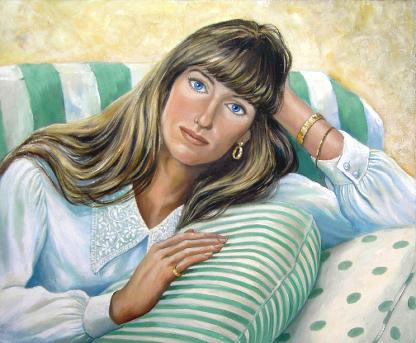 Pricing: Portrait prices will vary according to the size, the medium, the number of subjects in the painting, and the details involved in the paintings, such as background items or unusually detailed clothing. Clients must provide photographs that are sharp and clear in detail in order to insure an accurate likeness. Additional charge for Portraits with unusually detailed clothing or backgrounds.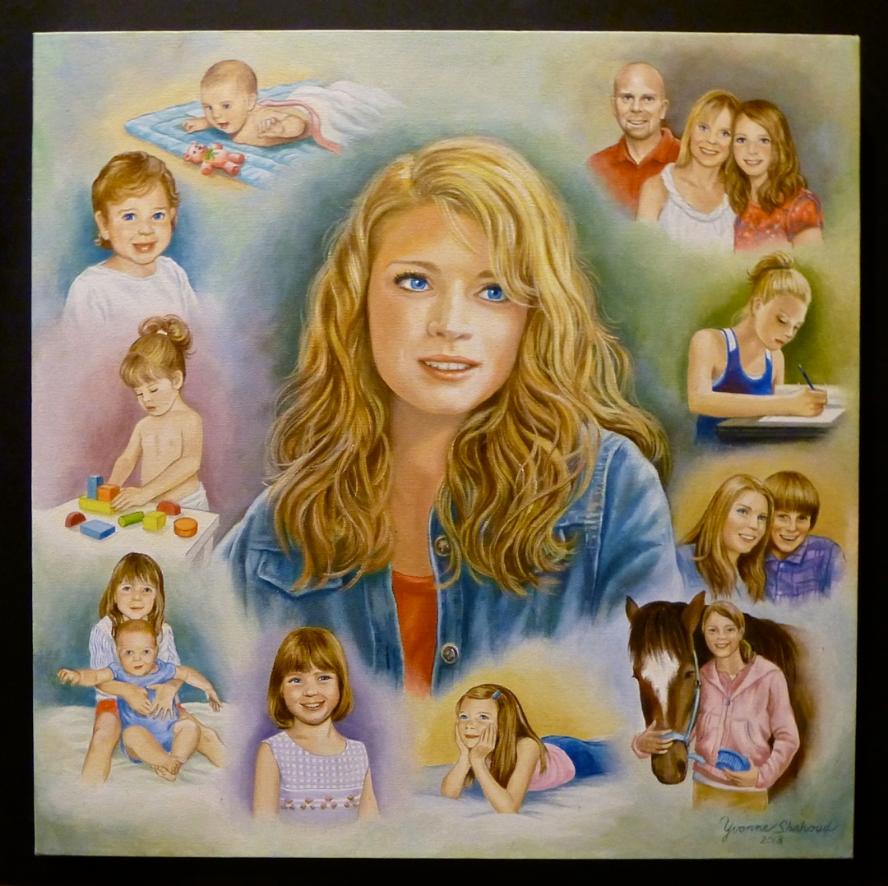 Are you looking for a unique gift for someone you love? Give a gift that will be treasured for generations. Surprise your loved ones with a beautiful hand-painted portrait!
Call today! 954-720-1836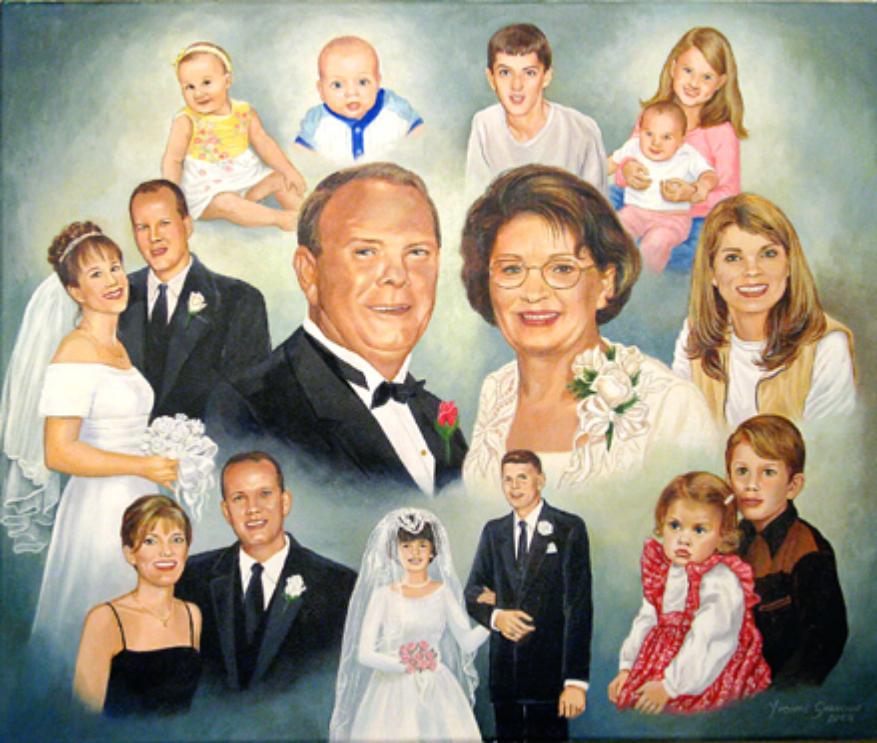 Above: A Family Treasure: Oil on canvas, size 24"x24". Using reference from many different family photos, this was painted for a client as a gift for his mother, which commemorates many special family occasions to be remembered. Below: I painted this as a graduation gift for my granddaughter, who had just graduated from high school. It depicts many stages of her life up to the age of 18 (center). She will treasure it always.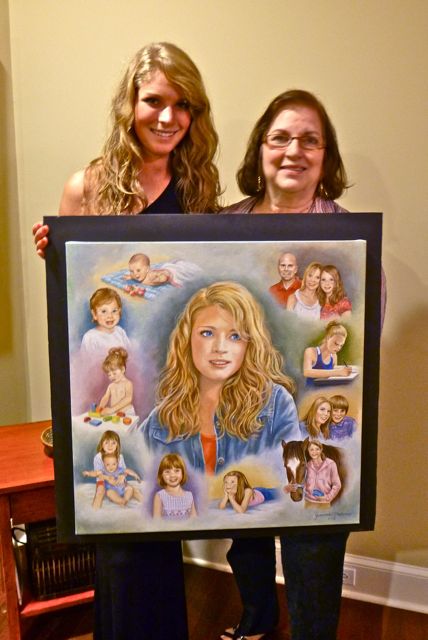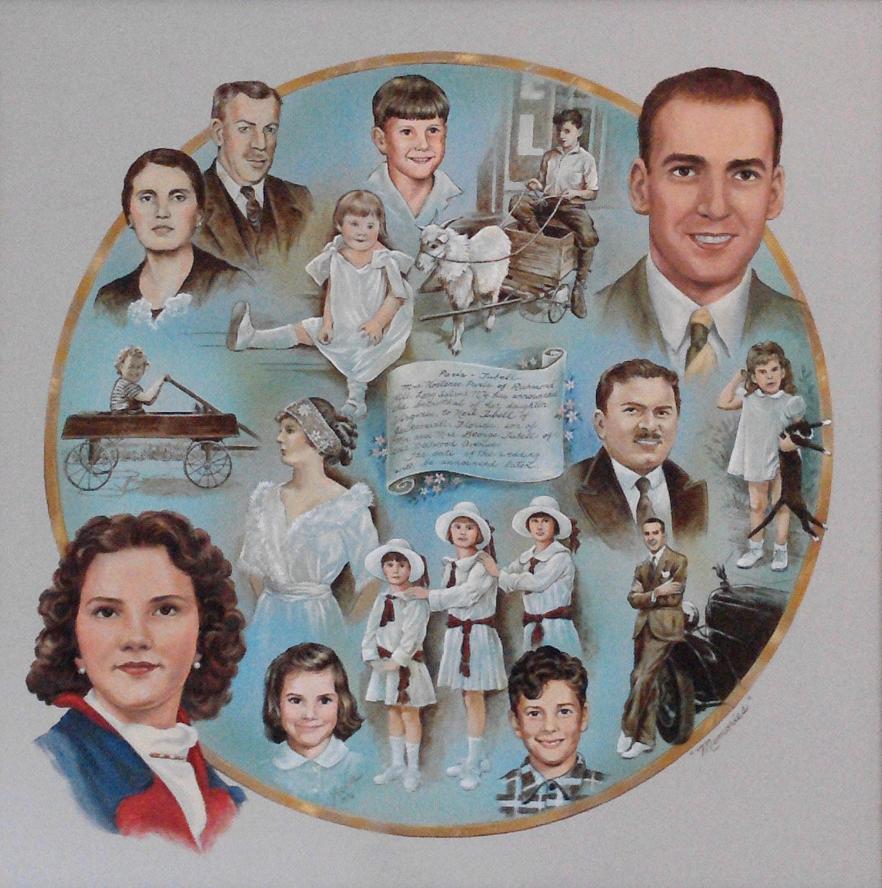 Above: This painting is called "Memories". It was my gift to my parents on their 36th wedding anniversary. The two featured portraits were my parents at the time of their engagement way back in 1939. All of the other figures were taken from really old sepia-toned photos of family members from the past (Mom & Dad as children, their parents, and my brother and myself as kids. My parents were married a total of 63 years.
Why not have a painting done of your family's "Memories"? It will be a gift that will be treasured for generations.

Contact me at 954-720-1836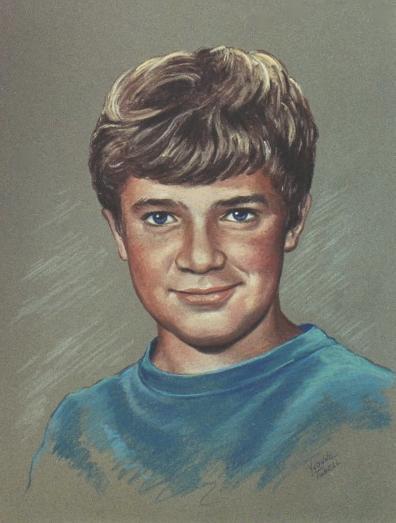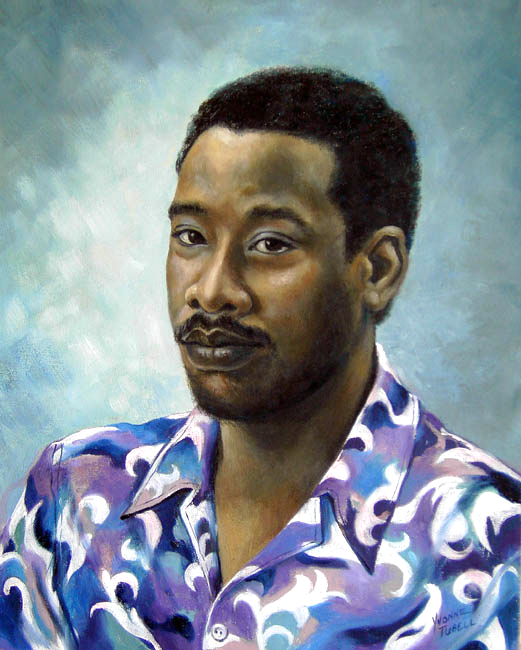 Above Left: Portrait painted in pastel, size 14"x18" Above right: Bobby: oil on canvas, 16"x20"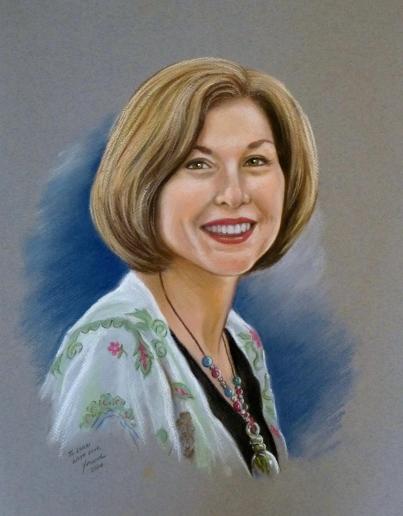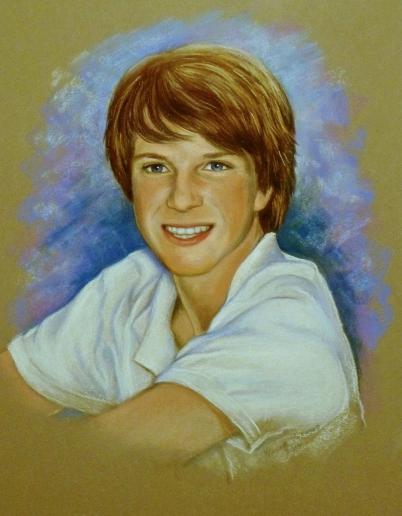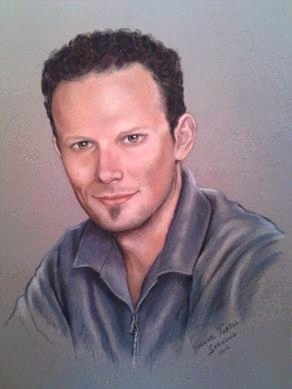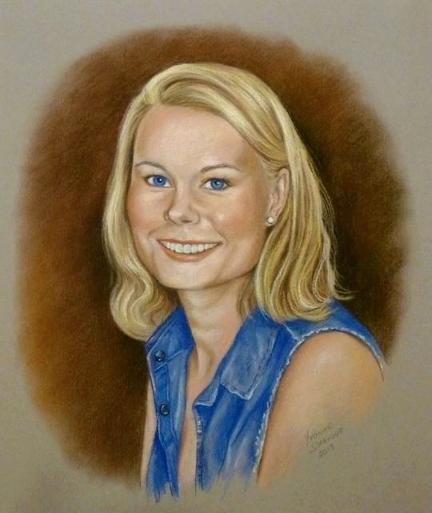 Four portraits above: All are painted in pastel, sizes 14"x18" Below: Both paintings are oil on canvas, size 16"x20"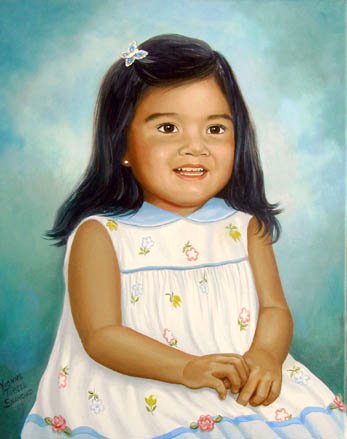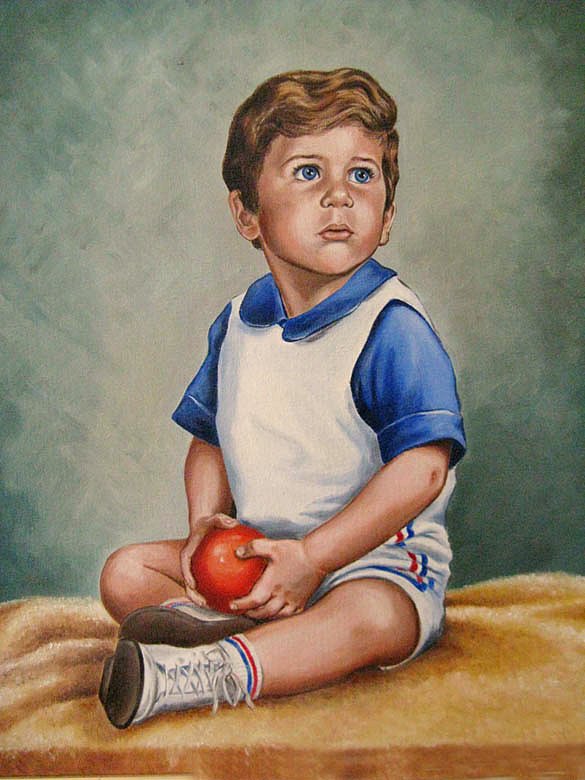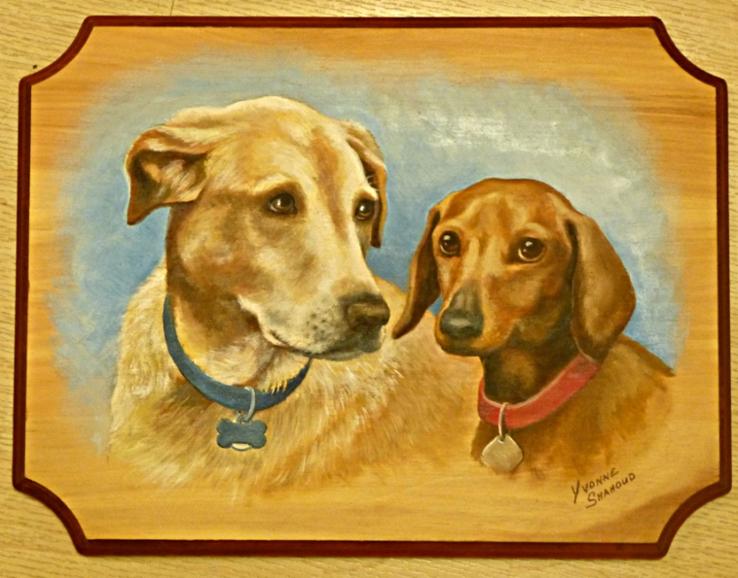 Family Pets: Painted in oil on a wooden plaque. A hand painted portrait of your pet, or the pet of a loved one would make an especially cherished gift. Pet portraits may be painted on canvas or done in pastels as well.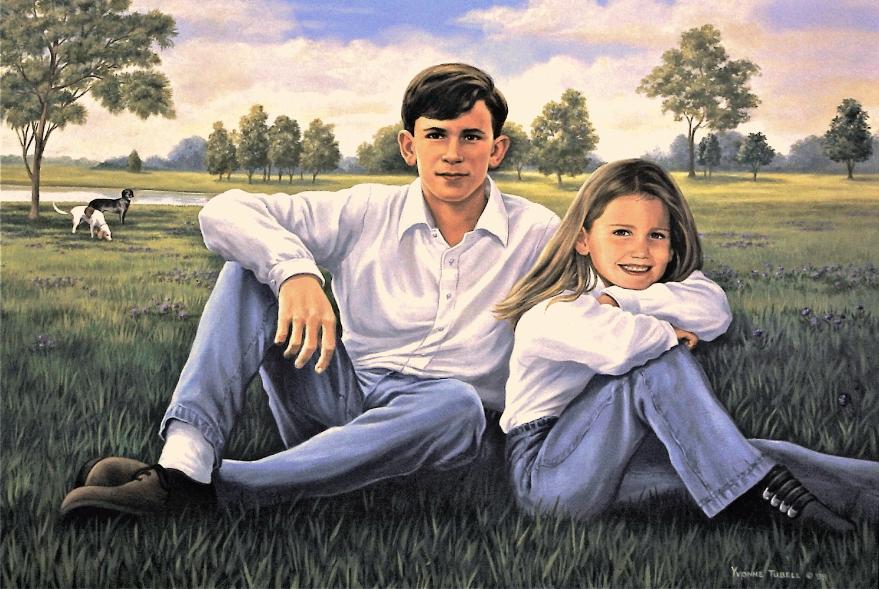 Above: Brother and Sister - Oil on canvas, size 24"x36".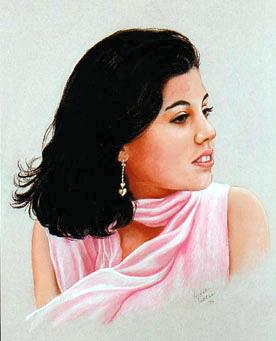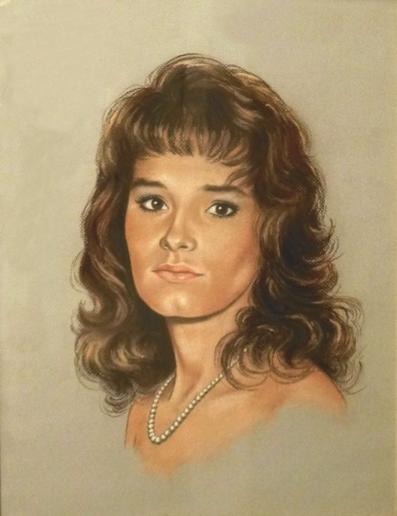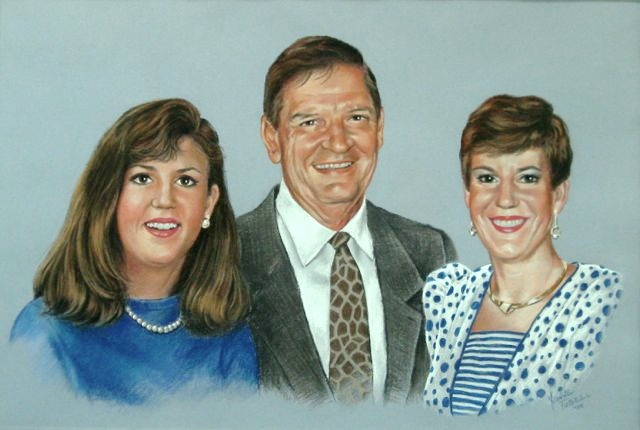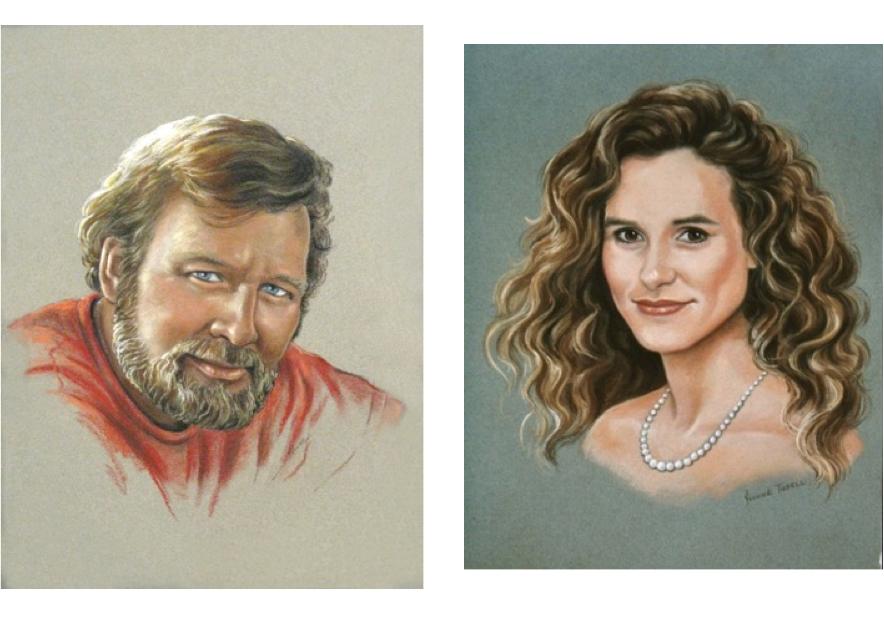 CLICK THE CATEGORY TABS AT THE TOP OF THE PAGE, TO SEE
MY COMPLETE PORTFOLIO OF MURALS AS WELL.
Most of my clients are local, but with the convenience of e-mail, you can send me a photo of your loved one electronically. We can discuss details by phone, and the finished portrait can be shipped to you directly. It can be that simple! Just email me for details, and estimates and we can get started!
Email: yvonne@muralmural.com
Serving South Florida
Serving Palm Beach County
(eg:
Royal Palm Beach,
Wellington,
Boynton Beach,
and Boca Raton),
Broward County
(eg:
Deerfield,
Coral Springs,
Pompano,
Weston,
Plantation,
& Fort Lauderdale),
the
north Miami
area, and many more.